12 Chinese Zodiac Signs
The Chinese Lunar Calendar names each of the twelve years after an animal. Legend has it that the Lord Buddha summoned all the animals to come to him before he departed from earth. Only twelve came to bid him farewell and as a reward he named a year after each one in the order they arrived. The Chinese believe the animal ruling the year in which a person is born has a profound influence on personality, saying: "This is the animal that hides in your heart."

People whose birthdays fall during the following periods are born in the Year of the Monkey:

The first date indicates Lunar New Year's Day. The second date indicates the last day of the lunar year.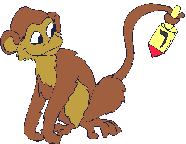 The Monkey Sign :The always charming, super-energized Monkey is the partier of the Chinese Zodiac. Monkeys have an insatiable appetite for fun and activity. Having a good time comes very easily for them in any crowd. They are optimistic, witty and blessed with a razor sharp mind. While Monkeys love to be the center of attention, they are good listeners as well. Their bottomless curiosity ensures they will be knowledgeable on a wide variety of topics. Their intelligence allows them to address complex tasks and situations with ease. Monkeys are show-offs who love nothing more than to bedazzle those around them with their antics.
Most Monkeys do not have a highly developed sense of morality. Indeed, if its fun, they'll do it. Their primary goal is the pursuit of their own pleasure. Monkeys make pleasurable, exhilarating lovers, but beware of the possibility they will stray. Monkeys will try anything once, and if it is the slightest bit entertaining are sure to try it again.
The Monkey's self-serving attitude may be trouble for many other Signs of the Zodiac. They are very hedonistic and lacking in self-control. If they cannot find a party they will start their own.
Lucky numbers : 3, 4, 5, 7, 16, 23, 34, 45 and 54.
Celebrities born under Monkey Sign : Ali Lohan, Alicia Keys, Anthony Perkins , Ashley Judd, Barry White, Bo Derek, Celine Dion, Chelsea Clinton, Chris Isaak, Christina Aguilera, Daniel Craig, David Copperfield , Debbie Reynolds , Demi Lovato, Diana Ross , Elizabeth Taylor , Emily Osment, Emma Sjöberg Wiklund, Günther Jauch, George Lucas, Gisele Bündchen, Guy Ritchie, Harry Houdini , Heather Mills, Hugh Jackman, Jake Gyllenhaal, Jessica Simpson, Joan Crawford , Johnny Cash, Julian McMahon, Kim Kardashian, Kylie Minogue, Lisa Presley Marie, Little Richard , Logan Lerman, Marc Anthony, Marcus Schenkenberg, Martina Hingis, Mel Gibson, Michelle Williams, Miley Cyrus, Monica , Nick Jones, Omar Sharif , Owen Wilson, Patsy Kensit, Rick Salomon, Rod Stewart , Rutger Hauer, Selena Gomez, Shaggy , Taylor Lautner, Timothy Dalton , Tom Hanks, Toni Braxton, Toshiro Mifune, Traci Lords, Vanilla Ice , Will Smith
Compatibility for Relationship or Business Partnership
Most Compatible With
Horse – Sheep can always rely on Horse's caring and trust.
Pig – will be a great complement to Sheep.
Rabbit – will appreciate and adore Sheep's talents very much.