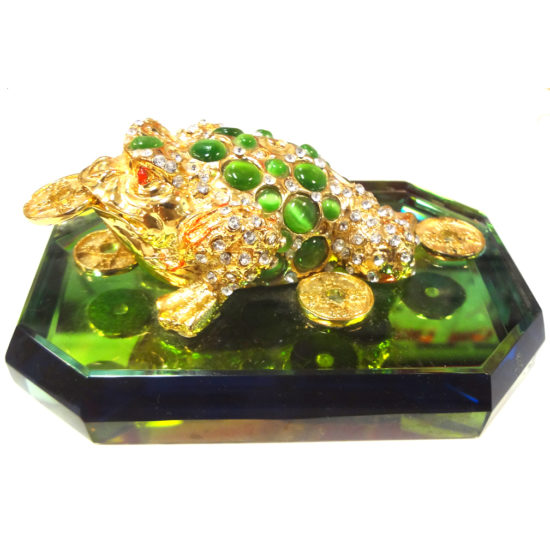 Bejeweled Wish-fulfilling…
Bejeweled Wish-fulfilling Money Frog for Wealth Luck
The Money Frog is a strong symbol of prosperity that is used extensively to attract wealth luck in Feng Shui.
This glamorous hand-made Bejewelled Wish-Fulfilling Money Frog has been intricately embedded with dazzling crystals and accented with colorful enamel. The numerous glittering gems and the resplendent gold finish are a representation of abundant riches and wealth. Within its body, it boasts a hidden compartment, easily open and closed with a magnetic clasp – this serves as a "wish fulfilling box", in which the beholder inscribes their wish on a slip of paper and locks it in the compartment.
A work of beauty, this impressive Bejeweled Wish-Fulfilling Money Frog is absolutely striking when shone with lights, attracting many admiring eyes, as well as emitting vibes of prosperity chi and the good traits the Money Frog represents.
The Money Frog, also recognized by name the "Three Legged Toad ", "Wealth Toad" or "Chinese Frog", is the celestial and mythical creature, emerging every full moon to bring with it wealth and good fortune. It is one of the most prominent symbols of prosperity and monetary gain in Feng Shui, and can often be spotted beside cash registers, receptions and owners' desks all across Asia.
Material: High Quality Metal with Glass Base
Color: Colorful, Sparkling
Dimension LxWxH (in/cm): 5.0×3.5×2.0 / 12.2×8.6×5.1