12 Chinese Zodiac Signs
The Chinese Lunar Calendar names each of the twelve years after an animal. Legend has it that the Lord Buddha summoned all the animals to come to him before he departed from earth. Only twelve came to bid him farewell and as a reward he named a year after each one in the order they arrived. The Chinese believe the animal ruling the year in which a person is born has a profound influence on personality, saying: "This is the animal that hides in your heart."

People whose birthdays fall during the following periods are born in the Year of the Dragon:

The first date indicates Lunar New Year's Day. The second date indicates the last day of the lunar year.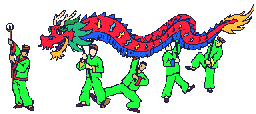 The Dragon Sign :The Dragon is the most celebrated sign of the Chinese Zodiac. They are powerful and very lucky, warm-hearted and full of blazing energy. Dragons are intelligent beings born with endless charisma, which ensures they influence the actions of those around them and often makes them the center of attention—a place they enjoy being. Dragons are known for giving good advice. Just as they are lucky with money, so too are they lucky in love.
Dragons have a talent for managing projects from there inception to there end with great success. Although their egos may be a bit inflated, they do make good leaders. While Dragons may acquire great wealth, it is power they truly want. Dragons are usually gracious winners and, conversely, very poor losers.
Being a leader is the natural role of the Dragon. Those who learn to be flexible, compassionate and tolerant may become great leaders.
Lucky numbers : 3, 4, 5, 6, 15, 21, 34, 35, 36 and 45.
Celebrities born under Dragon Sign : Al Pacino, Alessandro Nesta, Alicia Silverstone, Andy Warhol, Calista Flockhart, Che Guevara, Christopher Reeve, Chuck Norris, Cliff Richards, Colin Farrell, Courteney Cox, Courtney Love, David Hasselhoff, Edson Pele Arantes do Nascimento, Gustav Schäfer, Jimmy Connors, John Lennon, Keanu Reeves, Kirk Douglas , Lenny Kravitz, Lindsay Davenport, Marisa Tomei, Marlene Dietrich , Martine McCutcheon, Mesut Özil, Michael Ballack, Michael Douglas , Michelle Obama, Mickey Rourke, Mr. T, Nicolas Cage, Patrick Swayze, Paul Stanley, Placido Domingo , Reese Witherspoon, Rihanna, Ringo Starr, Ronaldo , Rob Lowe, Russell Crowe, Sandra Bullock, Sarah Palin, Sonny Moore, Steven Segal, Teri Hatcher, Tracy Chapman, Tom Jones , Vanessa Hudgens
Compatibility for Relationship or Business Partnership
Most Compatible With
Rat – will have great admiration for Dragon.
Monkey – Will be a complement to Dragon.
Rooster – Will live in harmony with Dragon.