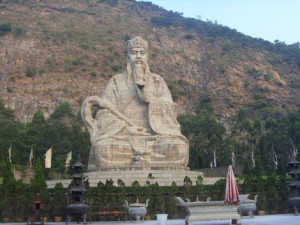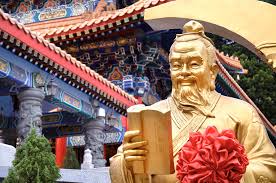 Wong Tai Sin (Chinese: 黄大仙; Pinyin: Huáng Dàxian) is a Chinese deity popular in Hong Kong with the power of healing. His name literally translates to the "Great Immortal Wong". Wong Tai Sin is the divine form of the individual "Wong Cho Ping".
The famous Wong Tai Sin Temple, dedicated to Wong Tai Sin. Everyday Hong Kong people flock to this temple to wish for good health and prosperity. According to Self-Descriptions of Chisongzi (赤松子自述) located in Wong Tai Sin Temple, in Hong Kong, Wong Tai Sin was born under the name Wong Cho Ping (黄初平 Huang Chuping) in 338 in today's Lanxi City, Jinhua County (金华县兰溪市), Zhejiang Province, China[3]. Western sources have him listed at (c. 284-364 CE).
Wong Cho Ping experienced poverty and hunger, and decided to become a shepherd boy when he was eight[4]. He began practicing Taoism at fifteen. Forty years later, he was said to have been able to transform stones into sheep under the cultivation of the religious philosophy. He is also known as Immortal Chisong (赤松仙子), named after his hermit mountain. His birthday is on August 23 of the lunar calendar.