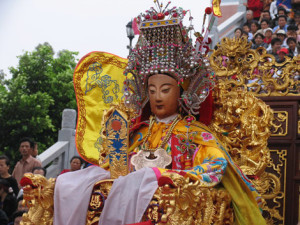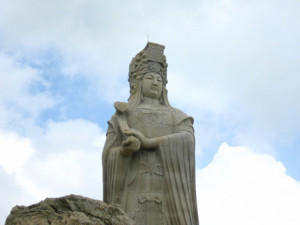 Mazu is the most worshipped sea goddess in China's costal areas, especially in the southeast and Taiwan islands.
Many people in China's south-eastern coastal areas and Taiwan Island live by fishing. Day in and day out, they sail on the turbulent sea, which is very dangerous. Fishermen all hope to safely return with a big catch every time they set out. So, they've created a sea goddess for blessing and protection. The goddess is Mazu, which is also known as "Heavenly Queen".
Every year, on the 23rd day of the third lunar month, which is said to be the birthday of Mazu, fishermen go to the Mazu temple to worship the goddess with great piety instead of going fishing on the sea. The image of Mazu is a kind-looking lady wearing a crown and a dragon robe. On the Mazu Festival, some middle-aged and elderly women dress up in traditional style by wearing a flat hair coil, red coat and black pants. These devout women burn incense to pay tribute to Mazu.