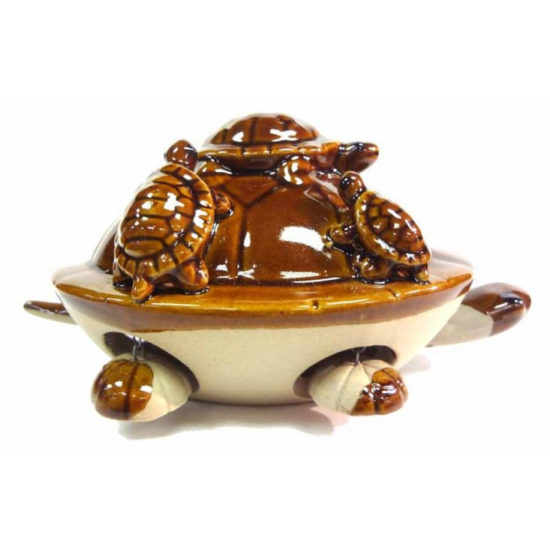 Porcelain Moving Three…
Porcelain Moving Three Tier Tortoise GF
Porcelain Moving Three Tier Tortoise This is a cute looking tortoise with its head, tail and four limbs wired to its shell such that when you give it a light tap or shake, they wobble and become alive!Depicted with two tiers of baby on its shell, this item signifies wonderful descendant luck with many obedient and healthy children, as well as a harmonious family. A true symbol of a happy family that is bonded together with love.
Ideal to be placed in your car or family room.
What the Tortoise symbolizes and how to use this symbol to enhance your Feng Shui
The tortoise is sacred and much loved by the Chinese as a symbol of longevity, stability, strength, support and endurance. One of the 4 celestial animals (Dragon, Phoenix, Tiger and Tortoise), the tortoise is an important and powerful symbol of landscape Feng Shui. Hence activating the tortoise in the North part of your home is one of the best Feng Shui features to have.
The tortoise is the best icon of longevity. The Crane (another symbol of longevity) is said to live a thousand years but the tortoise is believed to live up to 3000 years and therefore is extremely popular with those who seek to live a long and healthy life. Bearer of the magical Lo Shu square which all Feng Shui theories are based, the tortoise is also a symbol of protection and wealth.
Dimension (in/cm): 3x2x1.625 / 7.6×5.1×4.1
Additional Information
| | |
| --- | --- |
| Color | Brown |
| Material | Porcelain |