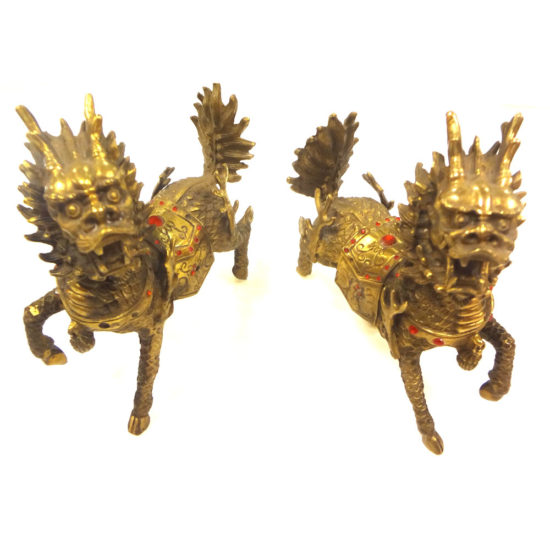 Majestic Guardian Chi Lin
This pair of immaculately crafted Chi Lin is ideal to guard entrances of homes and business premises from harm and thefts. Place them facing outward on both sides of the main door.
The Chi Lin, also known as Kei Loon, is the Chinese Unicorn, a legendary creature with head of a dragon, scales of carp upon the body of a horse, and a tail consisting of little curls. It is sometimes called the dragon horse, a mythical creature that has a lot of legends and stories associated to it.
One legend has it that they were originally guardians of the gates of heaven. Chi Lin is also being associated to the hou tu square, a symbol of numbers used in advanced Feng Shui analysis.
The Chi Lin's presence is said to attract the powerful cosmic breath of the dragon, which promises good omens, wealth, success, longevity, wisdom, compassion and distinguished children. The magnificent Chi Lin is believed to have great protective abilities. It is also believed that if you look into the eyes of the Chi Lin it will bring you happiness and good fortune.
Material: Brass
Color: Brass
Dimension LxWxH (in/cm): 5.3×2.3×6.0 / 13.3×5.7×15.2