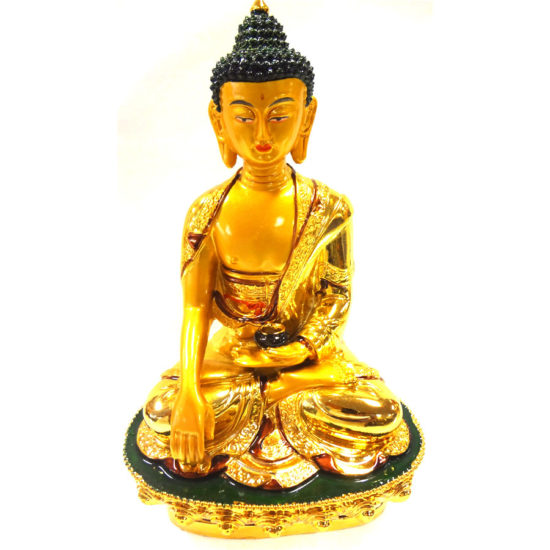 Golden Medicine Buddha
This is an exquisite representation of the beautiful Medicine Buddha, so named because of his compassionate ability to provide the ultimate antidote to the removal of success and health obstacles.
Medicine Buddha is the embodiment of the collective healing power of all the Buddhist Deities. He is the physician, the enlightened healer who protects living beings from physical and mental sickness, as well as other dangers and obstacles. His radiant body azure blue, partially wrapped in a dazzling silver cloth, the Medicine Buddha is depicted sitting on a lotus throne and his right hand is outstretched towards ground over his right knee in the gesture called supreme generosity. In it he holds the blooming myrobalan, or arura – the plant that represents all the best medicines. His left hand is in the meditation mudra – rested in his lap, palm upward and holding a pot which contains the nectar of immortality. All these signify eradication of sickness and sufferings.
Material: Resin
Color: Golden
Dimension LxWxH (in): 5.0×4.0x8.0