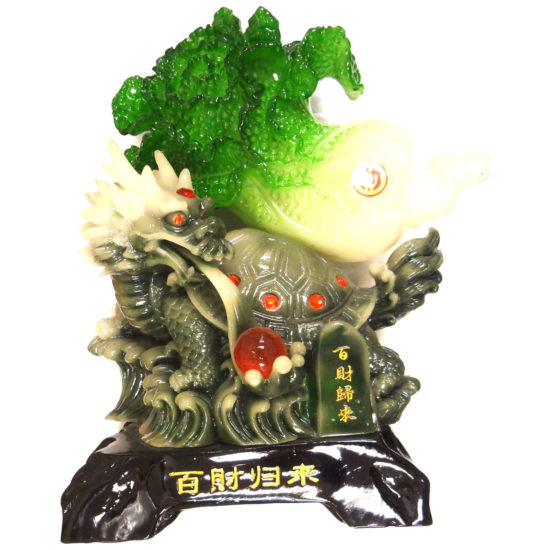 Feng Shui Pak Choy…
Feng Shui Pak Choy on Dragon Tortoise
The pak choi or bok choy is a very popular symbol of good luck charm particularly in Hong Kong. Phonetically, Pak can mean a hundred and choi – wealth. The pak choi is then meant to represent 100 kinds of wealth luck and prosperity.
The Dragon Tortoise is a celestial creature said to be a hybrid of the celestial dragon with the sturdy and steadfast tortoise, and is displayed by many Feng Shui practitioners to bring great fortune to their homes or workplaces.
The dragon headed tortoise is a powerful symbol attracting support, wealth and good luck. Dragon tortoise is for stunning career luck; it symbolizes the combination of the dragon's courage, determination and success, and the tortoise's longevity of tenure, ensuring a long and successful career. It is a must have if you are in the business or a cutthroat corporate environment.
Material: Resin
Color: Multicolor
Dimension LxWxH (in/cm): 12.0×7.0x15.0