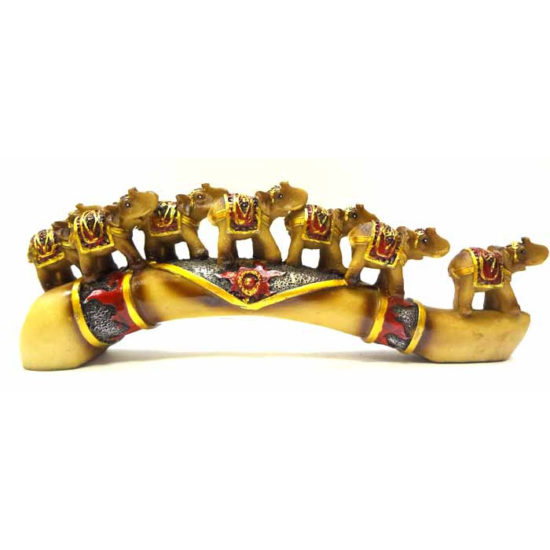 Family Of Elephant 3″
Family Of ElephantThis immaculate set is made of seven elephants crossing bridge together creates a symbol of happy family. The Family of Elephant is a fabulous protection and good infant luck symbol in Feng Shui. Bringing them home is as good as bringing a new member into your family for couples who are trying to conceive!Carefully crafted with special attention given to details, this absolutely stunning looking Family Of Elephant is hand-enameled, polished and embellished with crystals to add a sparkling accent to this breathtaking ornament. The Family of Elephant will shine and sparkle, emanating good 'chi' and vibes that attract good descendant luck to the people in its surrounding.The Family Of Elephant also makes a very unique and beautiful collectible, as well as a lovely gift for many occasions. It will sure to dazzle those giving or receiving it.
What the Elephant symbolizes and its Application in Symbolism Feng Shui
The influence of the elephant on mankind has always been found to be fascinating, enchanting and charming. The role of the elephant in myth, legend, religion, history, folklore and war, has made it a symbol of splendor. Marveled by the Chinese, Indians and Africans as the most auspicious symbol from the animal kingdom embodying strength, dignity, virility, fertility, prudence, wisdom and intelligence, the elephant is worshipped and honored, sacred and loved. In Buddhism, the elephant is one of the eight precious holy animals and the India God Ganesha is pictured as having the head of an elephant – signs of revered greatness.
Dimension (in): 8″L x 1.5″W x 3″H
2 in stock
Additional Information
| | |
| --- | --- |
| Color | Multicolor |
| Material | Resin |