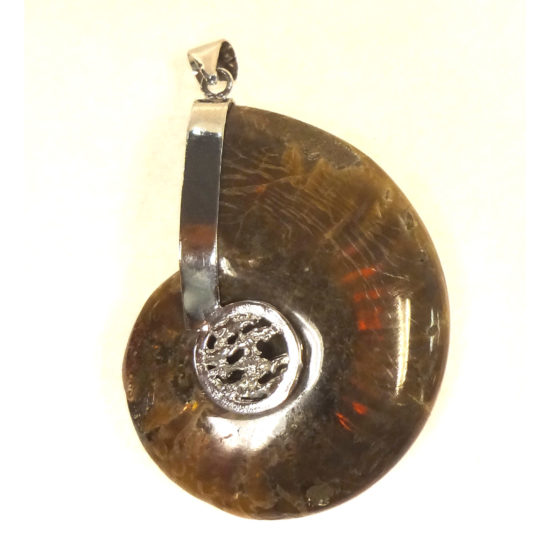 Ammonite Shell
Hang the Ammonite from the rear-view mirror in your car, to pick up wealth along all the routes you take.
This stunning strand of stainless stell holds upon it a magnificent Ammonite Fossil Pendant, embedded within a sterling silver pendant holder. It has been brought to a polished finished, and would look dazzling on anyone.
The ammonite is a very potent shell, and this has a lot of meaning in Chinese culture – the Chinese have always regarded shells as successful generators of fortune and luck, able to attract prosperity and riches. It is for this reason that Ammonite has a very high place in Feng Shui.
Ammonite shells, because they have been underground for countless centuries, are believed to be full of knowledge about the Earth's universal energy that they managed to soak up while buried. The wearer of the Ammonite pendant will be benefited in countless ways, achieving a state of wellbeing and self-illumination. When worn, the Ammonite pendant is believed stimulate the constant regeneration of good chi within the body – this is said to decrease the amount of toxins in the blood, creating clarity of mind and decreased illness odds. Even those near an Ammonite pendant will reap the rewards of this magical shell.
Material: Crystal
Color: Brown
Dimension LxWxH (in/cm): 2.0×1.5×0.5