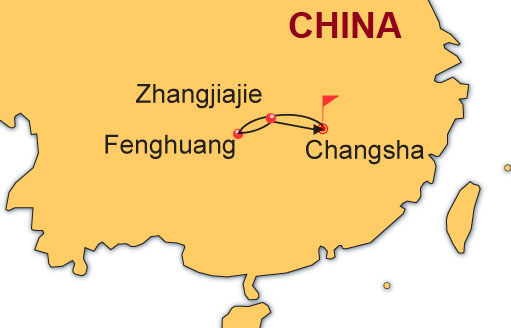 Tour Highlights:
☆ Visit the ancient city of Phoenix in China, the ancient city of River & Bars districts
☆ Visit the "World Natural and Cultural Heritage" site in Wulingyuan Scenic Area (Zhangjiajie),     where the movie "Avatar" was filmed.
☆ Take the world's highest, the largest load of outdoor sightseeing elevator – 100 Dragons Ladder
☆ Visit the original Chinese landscape painting 【Shilihualang】
☆ (Optional) Take the world's longest Tianmenshan cable car sightseeing, visit 【Tianmenshan Scenic Area】 high scenic view
☆ Visit Huanglong Cave + cruise tour (optional), so called the "Underground Maze"
Authentic meals:
Wild mushroom banquet in VIP room, salamander feast in VIP room, Tujia Diet in VIP room, Hunan flavor, Korean barbecue style meal
Highlighted programs (include fees):
100 dragons elevator up and down + Yuanjiajie scenic area + Tianzishan cable car down
Recommended activities (optional):
【Tianmen Mountain cable car + Skywalk +Tianmen cave $100 USD/ person】; 【Huanglong Cave (Cruise + VIP channel) USD80 / person】 【Tianmen Foxxian show USD80 / person], 【Zhangjiajie Grand Canyon Scenic Area USD80 / person】
Accommodation Hotel / Guide / Transfer:
* All-in-one four-star / five-star luxury hotel (Guaranteed Changsha international five-star Howard Johnson Hotel)
* Pick-up time: 10: 00-22: 00
  Pick up schedule according to guest's flight schedule
 Drop-off time: 08: 00/12: 00/14: 00/17: 00
* Professional Chinese-English Bilingual tour guide service
Warm Tips:

 
Please wear light sports shoes. Customers with walking disability, they can rent 
a foot cane. Travel through high-latitude mountain areas, may result in altitude sickness. 
Therefore, customers have heart disease, high blood pressure, respiratory disease, etc., 
please consider other itineraries.
---
Itinerary
Departure Date: 
Day 1 Hometown – ChangSha
Take a flight bound for Changsha.
Day 2 Changsha
Upon arrival, professional tour guide will take you to hotel.
Hotel: Howard Johnson Hua Chen Plaza or similar
 
Day 3 Changsha Phoenix Old Town(Feng Huang Town) (B / L)
After breakfast, go visit China's most beautiful town of Phoenix city (about 4 hours)
【Phoenix Old Town】also known as the ancient town of Tuojiang, is so-called "the most beautiful ancient city in China" and has a long history of "Miao" and "Tujia".
Hotel: Fengting International Hotel or similar
 
Day 4 Phoenix Old Town Zhangjiajie – Junsheng Sand Painting Gallery – Tianmen Mountain National Park (Option) – Tianmen Huxian Show (Option) (B / L / D)
【Zhangjiajie】Mainland China's first national forest park, consist of three major scenic spots: Zhangjiajie National Forest Park, Suoxianyu Scenic Area, Tianzishan.
【Military Academy】A well-known "gravel painting art palace", showing the gravel painting exhibition hall.
【Tianmenshan Scenic Area (own expense)】Taking the world's longest cable car uphill and downhill, experience hundreds of millions of years of carving the nature of "fairyland"; visit Lingxiao Terrace, heaven Buddha State, Guigu Plank Road, Skywalk (shoe cover 5RMB at own cost), Remarks: During winter days, it might be close.
After dinner, you can choose to watch a Tianmen Huxian musical show.
Hotel: International Splendid East Hotel or similar
 
Day 5 Zhangjiajie – Ride Bailong Elevator- Tianzi Mountain (Avatar / Hallelujah Mountain, The First Bridge) – Boat visit Huang Dragon Cave (option) (B / L / D)
【Yuanjiajie Scenic Area】 "Avatar" in the film "Pandora's Planet," the various elements are filmed in Zhangjiajie.
【Baolong ladder】326 meters high, well-known for "the world's highest all-exposed sightseeing elevator, the world's largest load, the fastest tourist elevator".
Aerial view of Zhangjiajie (张家界) – Avatar Mountain – Nov 2017 Trip
【Huanglong Cave (Cruise + VIP channel) 】Visit 3D of cave and landscape. The world's largest cave landscape, so-called "The underground maze".
Hotel: International Splendid East Hotel or similar
 
Day 6 Zhangiajie Grand Canyon (option) – Skywalk – Ten Mile Gallery's Changsha – Huangxing Road Pedestrian Street (B / L / D)
【Zhangjiajie Grand Canyon Scenic Area】Visit Zhangjiajie formed by canyons at a close distance. Tour customers can experience the world's longest fully-transparent Skywalk.
【Shilihualang】Up to ten miles long on both sides of the valley, with verdant trees and different types of rocks. 
Hotel: Howard Johnson Hua Chen Plaza or similar
 
Day 7 Changsha – Hometown (B)
After breakfast, drop off at airport and take a pleasant flight home.
(The Company reserves the right to alter itineraries, travel arrangements, hotel reservations etc. Tour customers should agree with that.)